Yasna Ayo Vismale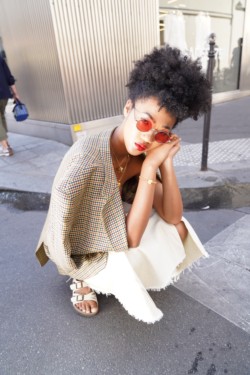 WEBSITE: https://www.yasna-vismale.com/
Please feel free to reach out :) vismale@usc.edu
IG: yazi_nay
I am Japanese (日本人), Afro-Caribbean (Trinidad/Tobago + Surinam), and an American woman who grew up in an immigrant household. As a person who belongs to so many communities and having an interdisciplinary skillset through various mediums + industries, I believe my strength is my authenticity, empathy, and ability to story tell/communicate. I am very passionate about bringing non-traditional stories to life through an authentic and unique lens.
Before coming to USC, I took a gap year between my undergrad at Columbia University in New York where I studied Religion and conducted research on sustainable development under the Dean of my college for four years. During my junior year while being locked in the house during COVID, I published my first book "Werk Your Net," a book focused on helping people from non-traditional backgrounds learn how to build their network and career in a way where you don't have to compromise your values. During and before my time at Columbia, I worked within the tech/start up industry as well which helped me develop my love for entrepreneurship as there are many commonalities in the film world.
Growing up in a multicultural home, I grew up listening to every single Ghibli song to exist, Jazz, Blues, Funk, Soca, Samba, Boleros, Afro-beats, Latin, Folk, House, Japanese folk music, Japanese blaxploitation music, and many more genres which helped me develop a deep appreciation and love for world music. Since I was 11, I trained Classically and in Jazz on the trumpet and vocals. Eventually this lead me to have the opportunity to tour Japan, Europe, and the US preforming at: The Lincoln Center, Benaroya Hall, Yamaha Hall, Umbria Jazz Festival, Newport Jazz Festival, guest preformance for Sarah Kinsley, C.U.G. Jazz Orchestra, and open for Disney's Humanitarian Award Ceremony.
WHERE MY SCORES HAVE GONE:
Acquired by: New Yorker, Acquired by: Magic Johnson's AspireTV, Selected for: LA Shorts Film Festival, Finalist: USC Women in Cinema Finalist, Featured on: Converse, Howard film grant award, Columbia's K=1 Nuclear Institute, and etc...
PRESS:
VICE's "Asian Americans Debate Model Minority Myth + Asian Hate," ULTA's AAPI Shades of Gold campaign, and Nike x JD Sport's Nike Makers, "100% Asian, 100% Black, 100% Me" Campaign.
COMPOSERS I LOOK UP TO:
Joe Hisaishi (久石 譲), Danny Elfman, Ryuichi Sakamoto (坂本龍一), Quincy Jones, Stanley Clark, Michael Giacchino, Flying Lotus, Michael Abels, Amanda Brown, Jongnic Bontemps, Nicholas Britell, Eric Satie, Chopin
ARTISTS I LOVE:
Stevie Wonder, Simon & Garfunkel, Buena Vista Social Club, Daniel Caesar, Fujii Kaze (藤井風), Erykah Badu, Lauren Hill, Destiny's Child, Mingus, Harry Belafonte, Dominic Fike, Tyler the Creator, Astrud Gilberto, John Coltrane, Earth Wind & Fire, Vaundy, Joji, Yaeji, UA, TENDRE, Lucky Daye, Jacob Collier, Doja Cat, Charlie Puth, Tems, Bill Evans, Marvin Gaye, The Marias, The Beatles, Michael Jackson,
FAVORITE FILMS:
Ghibli films, Everything Everywhere, Atlanta, Us, Mean Girls, Corpse Bride, Inception, Ratatouille, Minari, Breaking Bad, The Office, Black Mirror, Love Death & Robots
LANGUAGES: 日本語 & English
INTRODUCTION: (00:41 - 1:17), ROMANCE: (1:16 - 2:17), THRILLER (2:17 - 3:23), DRAMA/TRAGEDY: (3:24 - 4:50), GOOD VIBES/MUSIC VIDS: (4:50-5:38)
1 min clip of USC Junior Thesis, "Suenos Violentos": Directed and written by Amaris Pueyes-Mendez 1 min clip of USC Junior Thesis "Unveil": Written and directed by Miley (Jie) Luo Cinematography: Jaccarea Garraway
*I DO NOT OWN THE RIGHTS TO SOME OF THESE VIDEOS