Madison Lam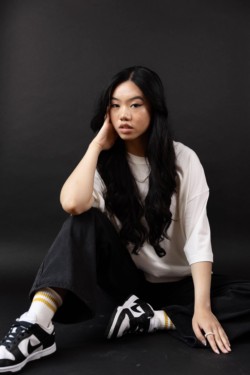 Hello there! Thanks for stopping by.
I'm Madison, a composer and singer-songwriter from Vancouver, Canada.
I was 13 years old when I first fell in love with film music. It was the film, The Theory of Everything, to be exact. All I felt were goosebumps, and since then, I've been on this crazy musical journey.
Vulnerability and relatability are key aspects to my music. I write to tell the stories of others and to evoke emotions that are hard to describe with words.
Academically, I received a Bachelor's of Music in Composition with a minor in Music Business at McGill University in Montreal, where I was a Schulich Scholar and was awarded the Eric Award in electroacoustic music. Much of the music that I wrote while attending McGill has been concert music (mainly orchestral) and I very much enjoyed working with the musicians who performed my works. There, I found a passion for collaborating with many different creatives.
After graduating, I took a year off to hone my songwriting and producing skills. Most of my time was spent writing, producing, arranging and recording for pop, R&B, and rock music. I worked closely with the world-renowned Producers and Engineers at Planet Studios (notably Ghislain Brind'amour, Juno Award-Winning), learning as much as I could. At the same time, I freelanced as a producer, arranger, pianist and songwriter, assisting in songs for local artists (MIGLIA, Alexia Madrid).
As a film composer, my background in concert music and songwriting has definitely shaped the way I converse with listeners. I can offer avant-garde 12-tone music, a catchy end-credits pop song, and old Hollywood soaring string music all in one. I truly believe there are no limits to film music, and I'm very excited to dive into some cool projects while attending USC.
Anyways, thanks again for checking out my profile and feel free to reach out!
Here are my social media links:
Some of my pop music (more to come soon!)
Fun fact: I spoke and performed at a TEDx conference back in 2017, and I hope it never resurfaces again in the depths of the internet...