Joseph Mohan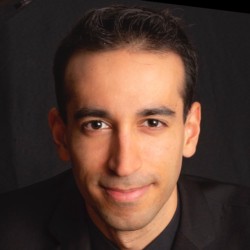 Hey, thanks for pausing on my page! I'm Joe.
I grew up in Buffalo fiddling bluegrass, playing violin in orchestra, and learning piano because I found making musical statements incredibly fun and defining. After deciding to focus on classical piano more seriously, I went to Juilliard for undergrad and Masters and caught all the movies I could at the local AMC - starting with Thor [i know, Marvel fans. I'm one now too]. I wound up on Broadway music directing, arranging and of course - playing piano. It was an awesome honor to play some pit orchestra piano for Disney's NEWSIES and Idina Menzel's show IF/THEN, and act as music director and orchestrator for the workshop of Byron Janis/George David Weiss' SILVER SKATES.
During 2020-21, I was working on developing a mod for ZWIFT that would intelligently format and generate music in close sync with a players effort level. And then I took the project private and had dreams of a Y-combinator run before realizing I really loved writing the music I was formatting and not coding to the ends of the earth. You could probably find stuff on it if you trawled some forums, but don't do that. I guess I've been self teaching and learning how music works with screens for the last two years and I am so honored to be at USC to continue writing music and collaborating with awesome people on awesome projects.
To name JUST a few, I admire the creative minds of Lorne Balfe, John Powell, Ludwig Göransson, Justin Hurwitz, Jon Favreau, Dan Harmon, Christopher Nolan, and David Cage. I write music inspired by my training and background, but mainly from my need to collaborate with folks, engross myself in stories, and discover different things or new ways of looking at things. I also appreciate finding opportunities to creating new instruments and sounds - my last one was designed from a Tibetan guitar and a set of boading balls and you'll hear it on some of the tracks on the right.
When I'm not doing something musical, you can find me on my bike [I used to race competitively, and Cali has some great roads], connecting with interesting people, and making pilgrimages to the local movie theatre. Oh, and rewatching the perfect work of art that is Community. #sixseasonsandamovie
I hope we can chat about something, so please reach out at jfmohan@gmail.com or insta @josephfmohan.