Eric Huang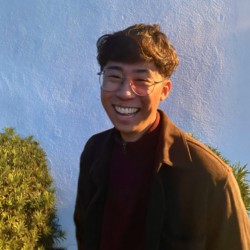 Hey, thanks for dropping by! My name is Eric and what excites me is experimenting with different sounds and blending genres into unique collages.
Before I was a composer, I wrote scripts and got together with friends to create short films in middle school. During that time I also played trombone in various ensembles (concert/marching/jazz band and orchestra) and my interest in filmmaking shifted over to composing for film. That collaborative spirit has stuck with me as the conversations with and feedback from directors are my favorite part of the process!
During my undergrad, I've written music for 27 short films working with film students from UCSB, USC, UCLA, CSUN, and UC Davis. This allowed me to compose in a variety of genres such as drama, horror, thriller, documentary, comedy, and animation and my music has ranged from jazz and orchestral to operatic vocals sung through a megaphone. It wasn't until the 12th short film that I started working with musicians to record the score. This opened up a whole world of possibilities and expressiveness that wasn't possible on my computer.
Since then, I've conducted and recorded 14 soundtracks in spaces such as the John Williams Scoring Stage at USC, the UCLA scoring stage, and EastWest Studios (Studio One and Two) in Hollywood, a historic studio where the themes for The Godfather and the original Mission Impossible were recorded. (Look below for some behind-the-scenes videos of the sessions!)
Additionally, in 2022 my music for the short film "Fleeting" won Best Original Score for at the LA Cinematography Awards film festival and my music was heard in the TCL Chinese Theatre during the screening of the short film "With Love, Eli".
Although I mainly focus on film scoring, I also create concert works. This September, I had an amazing experience being the composer in residence for the Jackson Symphony in Tennessee! This involved doing a talk about the piece at the Jackson-Madison County Library, rehearsing with the orchestra, and culminated with a Q&A on stage and the premiere of my 16-minute orchestral concert work, The Odyssey!
I'm always venturing into new styles and genres with every score I create so feel free to reach out even if you don't hear an example of what you're looking for! The best place to reach me is on Instagram (https://www.instagram.com/ericwillhuang/). Let's create something special and innovative together!