Yasna Ayo Vismale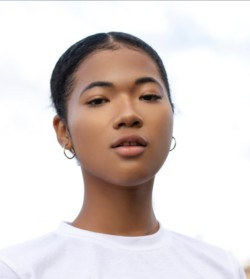 https://yasnavismale.com/compositionproduction
https://www.instagram.com/yazi_nay/
Yasna Vismale is a Japanese Afro-Caribbean American woman from Seattle, Washington. Yasna started her career in music originally a trumpet player and vocalist for jazz and classical music. She has played with Sarah Kinsley, the New York Youth Symphony, and was a guest artist for the C.U.G. Jazz Orchestra on her tour in Japan. During her senior year, she opened on trumpet for Disney's Humanitarian Award Ceremony.
During COVID, Yasna dived into the world of scoring by scoring a documentary on nuclear warfare and climate change in partnership with Columbia University's Nuclear Institute. She has then worked on shorts and features in partnership with alumni from NYU, Columbia. and Howard. She recently scored a commercial for Converse this summer.
Alongside her ability to compose music, Yasna is a polymath. She studied Religion and Sustainable Development during her undergrad at Columbia University, published her first book "Werk Your Net" a networking book for underrepresented communities, and is a content creator/professional model.
Through her ability to convey stories throughout various mediums and to different audiences, Yasna hopes to use her platform to inform, educate, and inspire those around her to think critically about their ethical practices, expand their sense of compassion, and deepen their level of self-awareness and happiness to improve the quality of the human condition.
Favorite composers: Joe Hisaishi, Danny Elfman, Ryuichi Sakamoto, Quincy Jones, Stanley Clark, Michael Giacchino, Flying Lotus, Jacob Collier, Michael Abels, Amanda Brown
Favorite movies/tv: Ghibli films, Everything Everywhere, Atlanta, Us, Mean Girls, Corpse Bride, Inception, Ratatouille, Minari, Breaking Bad, The Office, Black Mirror, Love Death & Robots
Children of Men Rescore (With Backing track) from Yasna Vismale on Vimeo.
Converse Commercial from Yasna Vismale on Vimeo.
Solo piano for intro to "Midwestern Atoll" Documentary from Yasna Vismale on Vimeo.