Yaron Eigenstein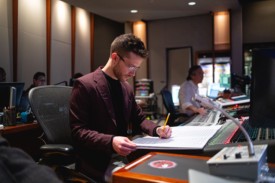 Welcome!
My name is Yaron Eigenstein, I am a composer and music producer for film, TV and stage productions, originally from Tel Aviv, Israel.
My work includes music for Israeli television, for the EA Apex Legends game franchise, and musical arrangements contributed to the 2020 NFL Super Bowl Halftime Show featuring Jennifer Lopez and Shakira. I am a co-founder and Music Director for Koolulam, a global social-musical initiative aimed at bringing people together through mass-singing events and collaborative creative experiences (see video below!).
I believe that the best ideas are born through collaboration, and consider myself incredibly fortunate to be able to work alongside fellow creatives in telling meaningful, moving and inspiring stories.
Would love to work together!
email me at eigenste@usc.edu
. . .
. . .