Thomas Gallegos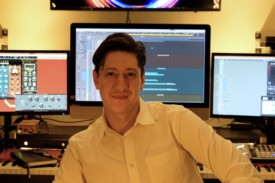 Thomas Andrew Gallegos
has been working in the Film/Television industry since 2011. While still attending California State University, Northridge, he had the opportunity to assist composer Guy Moon, who has worked on shows such as Big Time Rush, Fairly Odd Parents,Tuff Puppy and many other projects for Nickelodeon and Cartoon Network. As an assistant to Guy, Thomas was responsible for many post-production tasks such as cataloging, cue sheets, and some additional arranging for live sessions.
Upon graduating with a degree in Music for Commercial Media and Scoring Arts in 2012, Gallegos went on to work with composer Claude Foisy, who has worked with many Los Angeles based production companies such as UFO Productions and MarVista. It was through this mentorship relationship that helped Thomas gain real work experience working with networks sptouch as Hallmark, Lifetime and SyFy. Under Claude's Supervision, Thomas would provide assistant writing, arranging and Music editing under tight deadlines!
During the interim between composer assistant work, Thomas had the opportunity to score several independent movies for some of the folks he had met along the way. These projects have all found their way to major streaming platforms such as Netflix, Amazon Prime video and Hulu. Some titles include Hope Ranch (Christian/Country), I Am Vengeance; Retaliation (Action), War Cake (Drama), Love and Coffee (Rom-Com), and two films starring Eddie Griffin; Bad President (Political Satire) and Going to America (Comedy).
Most Recently, he has contributed music to a globally distributed production music library called, CrimeSonics, where he worked as a co-contributor under the mentorship of composer Dan Brown Jr. Through the experience, Thomas had gotten a better sense of how to better produce music for Film and TV. After two years of writing for CrimeSonics, Thomas applied to the prestigious University of Southern California, where he is one of twenty talented and gifted composers who are seeking to move up the ladder, and is beyond honored to be attending this academic year.
Gallegos offers a contemporary and collaboratory approach to film scoring, coupled with years of real world experience, that will bring your visual ideas to life!
"There's no such thing as luck.. luck is when preparedness meets opportunity"
- Anonymous
Contact Info
Email: Thomasandrewgallegosmusic@gmail.com
Phone: (626) 484-2240
Instagram: @tagtomahawkmusic
Preview Some examples of his work below!


Harbinger Down_Exploring the Capsule_Rescore
Hope Ranch_Distributor Trailer_Approved
Ratatouille_Wall Rat Cue_Rescore
Uninsured_Main Theme (Short Film)
Vengeance 2_Sniper Surprise (Netflix)