Tan Onwimon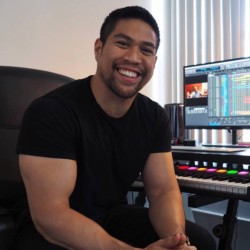 I am a musician who grew up in the musical theatre world. I began my career as an ensemble cast in many theatre productions from a small political theatre to a musical including Dreamgirls the Musical (Thailand Cast). From there, I get to learn music composition by sitting next to the musical conductor during the performance. The experience opened many more opportunities for me to continue expressing my music in a different art of storytelling such as in films, video games, and drag shows.
My music has been featured in various media including Hulu Original Series Wu-Tang: An American Saga Season 2-3, THAI Airways Inflight video, Agoda.com's Underwater Minigame, Tipitaka: the Living Message (Documentary), The National Parks of Thailand (Documentary), Be@rbrick (Toy Commercial) and more.
I am excited to collaborate with everyone. Let's make a film together!
Favorite Film/TV: Pan's Labyrinth, The Goonies, Mad Men (TV) Favorite Musical: She Loves Me
Instagram @tanonwimon E-mail: tan.onwimon@gmail.com