Tan Onwimon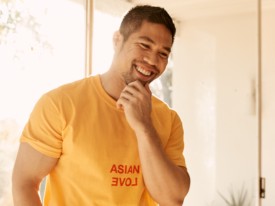 I was once a film directing student who discovered the love of film score by playing around with my keyboards. Which I ended up scoring for all my classmates' films including my own.
I grew up in the theatre. Beginning my career as an ensemble cast in Dreamgirls the Musical (Thailand Cast) where I learned music composition with the musical conductor. Later on, I decided to continue my film scoring journey by studying at Berklee College of Music. The experience opened many more opportunities for me to perform my music in a different art of storytelling such as in films, video games, drag shows, and political theatre.
My music is featured in various media including Hulu Original Series Wu-Tang: An American Saga Season 2-3, Yolk Man (TV Series), Bounty Brawl (Videogame), THAI Airways In-Flight Video, Agoda.com's Underwater Minigame, Tipitaka: the Living Message (Documentary), The National Parks of Thailand (Documentary), Be@rbrick (Toy Commercial) and more.
This passion throughout the years has led me to this new journey at USC. And it is my honor to be collaborating with every talent.
Favorite Film/TV: Pan's Labyrinth, The Goonies, Mad Men (TV)
Instagram @tanonwimon