Shao Jean Sim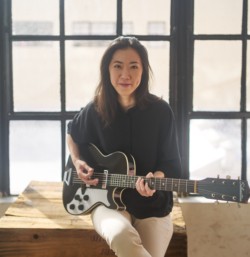 Hi! I'm Shao, and I'm a composer, songwriter/producer from Singapore. My music journey began at four on the piano, before picking up various other plucked stringed instruments along the way.
As composer, my music has been heard on networks such as SKY, Netflix, and Discovery Channel. I've also written and arranged music for intimate theater productions, commercials and video games.
In the film/tv industry, I've worked for composers Tom Howe, Didier Lean Rachou and alongside Dan Romer, with credits including Fox Searchlight's Wendy (lead orchestrator & conductor), Ted Lasso on Apple TV+ (score tech engineer), and Discovery's Bering Sea Gold (score mixer).
Additionally, I also produce and songwrite with other artists; my personal EP, a collaboration with Leyeux, has been featured on popular music/culture websites Indieshuffle and Stereofox and described as 'clean and simple happiness'.
I graduated from Berklee College of Music, majoring in Contemporary Music & Production, and Professional Music. I got my start in the industry at the Village Studios in Los Angeles, where I've been an assistant engineer and worked on records of Stevie Nicks, Elvis Presley, Weird Al Yankovic, among others.
Beyond music, I love discovering hole-in-the-wall food and coffee places, getting lost hiking in the woods, and the occasional throwing fists at a punching bag.
I enjoy the collaboration process between filmmaker and composer, and I love writing thoughtful music, crafting vibe-y and imaginative soundscapes, and pushing boundaries on every new project. I look forward to hearing from you and crafting a distinct boutique score for your project!
Select Videos