Nga Weng Chio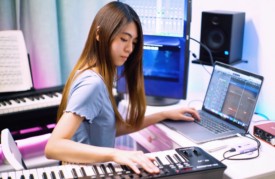 "Film music conveys the deeper feeling that cannot be spoken."
I am Wing! So nice to meet you here, Welcome to my page! :)
♬ ♭ ✮ ☆ . ° .• °:.
₊ ° . ☆. ° .• °:.
₊ ° . ☆ᴠᴏʟᴜᴍᴇ : ▮▮▮▮▮▮▯▯▯
My Music Journey ♬
Born in a little town-Macau, I finished my bachelor studies in Shanghai Conservatory of Music. There, I study a lot about orchestral and Chinese music. My style of work is diverse, varied from
Orchestral, Eastern, Romantic, Electronic, Horror, Ancientry Music etc.
At the age of 5, I started learning the piano and obtained the Licentiate of the Royal School of Music with Distinction. I was also active in the past Macau Youth Music Competitions, including the first place of various advanced categories. I graduated from Sacred Heart Canossian College (English Section), was active in various music activities both in and outside campus, such as performing with the Macao Youth Symphony Orchestra and the SHCCES School Orchestra as a soloist.
During my junior school years, I have already shown her interest in composing. After graduation, she devotes herself to composing and participated in the Melco Crown Entertainment Macau Youth Original Music Competition in 2018 as one of the ten finalists. Afterwards, she was admitted to the Shanghai Conservatory of Music and studied composition under famous Chinese composers such as Li Lei, Shen Ye, Ji Dongyong and Qin Yi. She also studies film music theory under Chen Gong which has inspired her to compose for film.
Personality 𐐪𐑂
Caring, Friendly, Genuine, Easy-going, Sentimental, Perfectionist when working; Crazy when playing!!
My Awards ☆
Nga Weng has won multiple awards recently as follows: Cosmic Film Festival - Best Score, The 9th National College Digital Art & Design Awards "Film scoring category – National Award First Prize and Shanghai Final First Prize"; The 6th Think Youth-Shanghai International Digital Creation Competition "Composition and film score category - First Prize" "Experimental Music - Second Prize" ; Lei Cine Scoring Project TOP 20 Nominee ; IEMC Electronic Music composition finalist; Score the World Contest – Finalist (top 60) ; Horror Hotel Scoring Competition – Honor mention. Musical works composed and arranged by Nga Weng include: Film score "Unsettled" (shortlisted in various film festival), Animation rescore "Spring" "Abiogenesis" "Minions: Yellow is the new Black" "Destiny", dance music "Passion Fruit", Macao New Eight Scenic Spots Music and Sound design, scoring for documentary "Sea House", Youth Career Expo 2020 Promotional video, music arrangement works for the Taiwan public Musical Association, scoring for short film "For Lorn" Macao International Film Competition, scoring for short film by graduate student of University of Science and Technology, arrangement for the University of Macau String Orchestra, cello octet arrangement, composition of the theme song for the 70th anniversary of the establishment of the General Association of Chinese Students of Macau, and the concert works etc. Her piano quartet was also performed in the Vienna Amadeus Festival. Her music style varied from orchestral music to electronic music, and she entered Netease as game composer(internship) in 2021.
Let's Make Friends (❁´◡`❁)
For student filmmakers please contact asap:)

Instagram: candy_music33

Facebook: Cnw Weng

Wechat ID: ChioNgaWeng
Works

Dragons - Rescore (Eastern and orchestral music)

Her - Rescore (Orchestral romantic)

Minions - Rescore (Animation, jazz)

Abiogenesis (Sci-fi, Hybrid orchestral)
Spring (Orchestral, Animation)
Shanghai Conservatory of Music Graduation song- Arranger

Macau Advertisement (Uplifting, orchestral)