Martí Noguer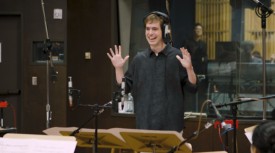 "Each story deserves a unique score"
Welcome to my page! I'm Martí, a composer from Barcelona :)
Before moving to Los Angeles, I learned a bachelor's degree in Music Composition from the Conservatori Superior del Liceu de Barcelona in 2019. During my studies, I obtained a full scholarship granted by the Ferrer-Salat Music Foundation. Also I studied at the Royal Conservatory of Ghent with renowned film composer and conductor Dirk Brossé.
After graduating, I was awarded as the #8 winner of the Oticons Faculty Int'l Film Music Competition 2020, a contest organized by Oticons - the European Film Composers Agency.
In 2020, I began working with Spanish film composers Alfred Tapscott, Fernando Velázquez, Xavier Capellas and Sergio J. Lacima. I served as a score producer, orchestrator and music editor, as well as writing additional music and arrangements for Netflix and Amazon Prime projects.
Thanks to a full scholarship from "la Caixa" Foundation, I move to Los Angeles to study the prestigious "Screen Scoring" master's degree program at the University of Southern California.
I see collaboration as the best way to expand creativity and reach boundaries that could never be achieved individually. That is the reason why meeting filmmakers to discuss art, cinema and storytelling as well as working together with them is one of the things I value the most. I am very interested in finding new ways to create, to tell stories, to engage with the audience and to evolve as an artist, keeping always in mind my moto 'each story deserves a unique score'.
.
Favorite films: Arrival, Hidden Figures, 007 franchise, Knives Out, Inception.
Favorite composers: Dan Romer, Daniel Pemberton, Thomas Newman, Hans Zimmer, Nicholas Britell,... To sum up, all those composers who bring something fresh and unique to their scores.
IMDb page: www.imdb.com/name/nm9081035/
Website: www.martinoguer.com
Instagram: www.instagram.com/martinoguermusic/