Johan Macaraeg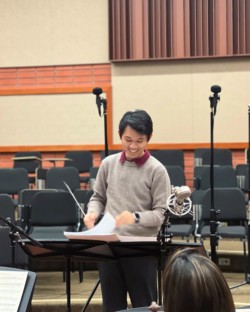 Hello there!
My name is Johan Macaraeg and I'm a composer from Manila, Philippines. I'm honored to be part of Thornton's Screen Scoring Class of 2023. I've always been excited about music and cinema. I love the art of story telling and how music can help support and enhance visual media. I can still remember the first time I saw the opening scene of Up and how that just brought me to tears!
Prior to USC, I finished a degree on Music Production and graduated in 2020. I was also part of the BMI/NYU Television workshop of the same year. I pursued film music during my time in my senior year of high school and have had the pleasure to score short films, commercials, podcasts and a handful of feature films since then. In 2020, I was also given a LUNA Award nomination for best musical score by the Film Academy of the Philippines.
I love writing different styles of music and am always eager to collaborate with filmmakers to find the sound that will help tell the story and capture the emotion of their film. Feel free to reach out to me via my email or any of my social media listed below. I would love to work together. Let's collaborate!
Email: jmacarae@usc.edu or johanm.music@gmail.com
Instagram: https://www.instagram.com/johanm.music/
Facebook: https://www.facebook.com/johan.macaraeg