Jeremy Earnest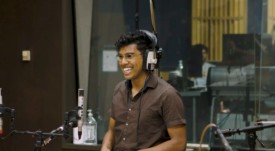 Hello and Welcome to my page!
My name is Jeremy and I'm an Indian-American composer and multi-instrumentalist from Reading PA, currently based in Los Angeles. I'm honored to be part of the USC Screen Scoring Class of 2023.
Since the age of 11, I've been in love with all things music, and have been performing professionally with Indian artists all around the world like Dr. L Subramaniam, Dr. K.J. Yesudas, and K.S. Chitra. I had the privilege of studying music composition at The Peabody Institute of Music with Pulitzer-Prize winning composer Dr. Kevin Puts. It was there that I discovered my love for storytelling through music. Although my music is influenced by many composers of the past, I'm greatly influenced by contemporary music, jazz, Indian classical, hip hop and electronic music.
I love how collaborative of a process film-making is. It's truly a blessing to work with talented visionaries to create something novel. I am moved by dramatic and emotional films and inspired by creative and unique storytelling.
When I'm not doing music related things, some of my favorite hobbies are cooking, watching movies and TV, biking, and playing chess!
Let's work together! Send me an email at jearnest@usc.edu
Facebook: https://www.facebook.com/JeremyEarnestMusic
Instagram: https://www.instagram.com/jeremyearnestmusic/
Favorites
Films: The Imitation Game, Arrival, Django Unchained, HP Prisoner of Azkaban, Ratatouille, How to Train Your Dragon
TV Shows: Severance, Better Call Saul, Barry, Arcane, Sherlock, the office, The Mandalorian
Composers: Alexandre Desplat, John Powell, Natalie Holt, Michael Giacchino, Jóhann Jóhannsson, Kevin Puts, Ilayaraja, Ludwig Göransson
Here's some of my work!