Ishaan Tyagi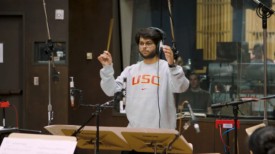 Hi! I'm Ishaan Tyagi and I'm a composer from New Delhi, India. I've always had an indescribable fascination towards cinema and film music. Nothing gets me more excited than having a great film watching experience. So the one and only thing that I've always wanted to do as a musician is to compose music for films.
A little about my background - I started out as a keyboard and piano player and I got the chance to perform at some of the biggest music platforms in India. While working as a session musician I pursued a Diploma in Audio Engineering and Music Production from New Delhi. I took up work in Mumbai as an assistant composer on various feature films and tv shows on Hotstar, Discovery+, etc. I've also provided music for some student films from the prestigious Satyajit Ray Film and Television Institute along with some short documentary music work and production music tracks.
I'm so greatful and honoured to have been included in the USC Screen Scoring program. I absolutely love going through the process of working with film makers and giving a musical identity to their vision. I'm looking forward to collaborating with people in such vast roles in the world of filmmaking and learn and grow with the new challenges.
Some of the films I absolutely love..."Some" - Goodfellas, A Few Good Men, Midnight in Paris, Arrival, The Social Network, Pulp Fiction, There Will Be Blood, Jojo Rabbit, Birdman, The Grand Budapest Hotel
Favourite Directors - Martin Scorsese, David Fincher, Sam Mendes, Paul Thomas Anderson, Denis Villeneuve, Wes Anderson
Favourite Composers - John Powell, Michael Giacchino, Thomas Newman, Alexandre Desplat, Ludwig Göranson
.
Feel free to connect -
Email: ishaantyag@gmail.com
Facebook: https://www.facebook.com/ishan.tyagi.56
Instagram: https://instagram.com/ishaan_tgi?igshid=YmMyMTA2M2Y=
.
Some of my work -