Ishaan Tyagi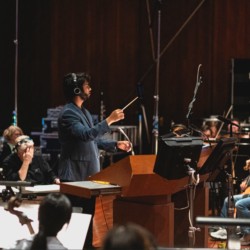 Ishaan is a composer from New Delhi, India currently based in Los Angeles, California. He has performed as a keyboardist/ pianist at some of the biggest music venues in India and has composed music for various feature films and TV shows in Mumbai, as well as contributed to production music tracks.
He's a graduate of the prestigious Screen Scoring program at USC having studied under the esteemed faculty which includes Pete Anthony, Garry Schyman, Lolita Ritmanis, Christopher Young, Peter Golub and more. Prior to USC, Ishaan also holds a certification in Audio Engineering and Music Production from SACAC, New Delhi.
The indescribable love for cinema and music has led Ishaan to pursue his dreams in film music. He is greatly motivated to work on and be around films, meet collaborative people and make a contribution to the vast world of filmmaking.
Favourite Films (Some) - Goodfellas, A Few Good Men, Midnight in Paris, Arrival, The Social Network, Pulp Fiction, There Will Be Blood, Jojo Rabbit, Birdman, The Grand Budapest Hotel
Favourite Directors - Martin Scorsese, David Fincher, Sam Mendes, Paul Thomas Anderson, Denis Villeneuve, Wes Anderson
Favourite Composers - John Powell, Michael Giacchino, Thomas Newman, Alexandre Desplat, Ludwig Göranson
.
Feel free to connect -
Email: ishaantyag@gmail.com
Facebook: https://www.facebook.com/ishan.tyagi.56
Instagram: https://instagram.com/ishaan_tgi?igshid=YmMyMTA2M2Y=
.
Some of my work -