Tristan Clarke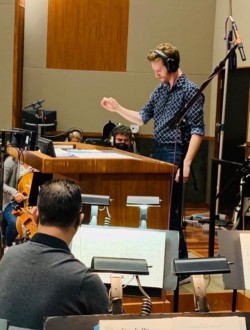 Hi, my name is Tristan and welcome to my page!
I'm from Alexandria, Virginia and I've spent most of my "adult" life performing music in an orchestral setting. In addition to my scoring work, I have been playing trumpet professionally for over 10 years. I studied trumpet at The Juilliard School for my undergraduate and was principal trumpet of the Jacksonville Symphony for 5 great years before leaving to pursue my lifelong goal of being a composer for film. In addition to playing trumpet with some of the best orchestras in the country (Boston Symphony, San Francisco Symphony) I am also a member of the viral internet duo the Melodica Men.
I write music ranging from orchestral music all the way to synth pop. I've had tons of experience writing for short films and I have also written tracks for Hans Zimmer's Bleeding Fingers Music and Extreme Music in Santa Monica.
The Melodica Men is a group that a close friend and I founded where we play covers(so to speak) of hugely popular movie, video game, and orchestral music. We have accrued over 1.5 million followers and our videos have been seen more than 200 million times on all social media! If you are interested in taking a DEEP dive into the obscure and entertaining world of melodica, check out the Melodica Men on Facebook or Youtube.
When I'm not sitting in front of my computer for hours working on music...my favorite things are: spending time talking with interesting people and friends, watching movies (of course...), playing video games (can't go wrong with this), AND last but not least, spending time hugging my son Chandler (he's a dog...) who I worship above all else.
Feel free to reach out to me at tristan.lane.clarke@gmail.com.