Tony Hsueh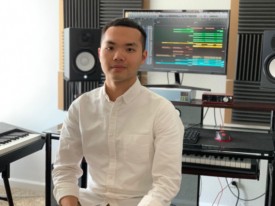 Hello everyone!
My name is Tony and I'm a Taiwanese composer based in Los Angeles. Growing up in Taiwan, I discovered my passion for video games, animations, and films as a child. Almost 20 years ago, I played a game called Lineage II, the soundtrack of which really blown my mind. That was the first time I was introduced to the beauty and delicacy of orchestral music. Since then, I have been deeply fascinated with music in visual media. Composers that hugely influenced me and made me urge to pursue a music career include: John Williams, Joe Hisaishi, Randy Newman, Bill Brown, Thomas Bergersen and John Powell.
In 2013, I came to the U.S to pursue my dream. I studied music production at the Los Angeles Film School, where I gained my fundamentals of mixing, mastering, recording, sound engineering, and other skills. After realizing my true passion in orchestral music and film scoring, I went to the Musicians Institute for the Composition in Visual Media program and graduated in Spring 2021 as the commencement speaker with summa cum laude.
Besides music, I also have passion for food and traveling. I try out new restaurants (especially Japanese, French, and Italian cuisine) routinely to relieve my stress and to expand my bucket list. My family used to travel to Japan once or twice every year just for food trips. I have traveled to nearly 20 countries, which made me exposed to different art, cultures, and inspirations.
For more information and reels please feel free to reach out using my email: tony06020505@gmail.com