Savannah Lack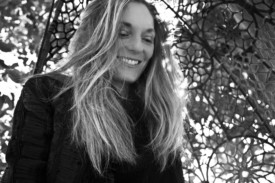 SAVANNAH JO LACK
As a little girl, Savannah built tree houses, grew vegetables, and rode her bike around the sprawling streets of suburban Brisbane, Australia. Sometime around the age of 5, a violin bit her. Whilst not fatal, the incident did leave her with a strange mark on her neck and a long-standing love of all things string. Fast-forward 4 decades and Savannah Jo Lack has left her own strange mark on the world. She and her violin have carved several enviable niches, none of which could completely contain them.
Savannah has worked as an orchestral violinist with the Queensland Symphony and Philharmonic Orchestras, as a soloist on feature, short film scores and TV shows, (Killing Ground, Exitus Roma, Empyrean, The Paul Reiser Show). She has played with Ruth Gerson on The Late, Late Show, performed with Cliff Richard and Rod Stewart, recorded with Alanis Morissette (Flavours of Entanglement) and has performed with jazz great, Kai Eckhardt (John McLaughlin). Savannah has composed additional music for an Emmy nominated documentary, Bauer and the music for the play, Bauer, by Lauren Gunderson based on the documentary (premiered off Broadway in 2015). She has written two albums with award winning German producer, Robot Koch. Tracks from these albums have been placed in major advertising campaigns, (Sony Bravia) and tv shows (Night Shift). Her latest record with Robot Koch, 'Otherwhere' was recorded with the Deutsche Kammerorchester on the Neue Meister label and performed live as part of the Drive Series and at the Reeperbahn festival. She has written music for short films - The Dream (Javiera Estrada), Ode (Elliott Lee Hazel) and Siku (icebergs project).
Savannah has a solo project where she performs live orchestral soundscapes with an enormous pedal board and Ableton Live.