Richard McGuire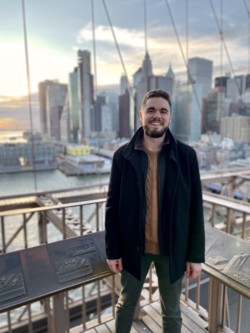 Hi there!
My name is Rick and I'm a composer for film, TV, and games. I'm originally from Arizona and currently write for various music libraries all around the world: Sonoton Music, Warner Chappell, and Spirit Production Music. Additionally, I recently signed with the label Platoon under the moniker "At Dusk" and have been featured on Apple Music's "Ambient Sleep" and "Ambient Chill" playlists and in Apple Fitness+.
Growing up, my focus was percussion; I've performed with the Flagstaff Symphony Orchestra, Dark Sky Percussion, all-state orchestras, and wind bands. I got bit by the scoring bug when I watched an interview with James Horner explaining how he produced the soundtrack for Avatar. That lead me to pursue my undergrad in film scoring at NYU where I cut my teeth on student films and documentaries.
Favorite films: Ford v Ferrari. Spider-Man 2. Defiance
Favorite games: Detroit: Become Human. Assassins Creed: Origins. Wolfenstein II: The New Colossus. Star Wars Battlefront II.
Feel free to reach out to me via email above or on Instagram below to collaborate! https://bit.ly/3kkksuO