Monika Mia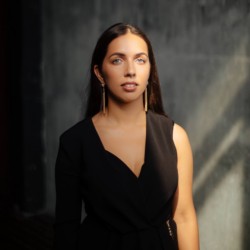 I come from a classical music background but with a keen interest in electronics, so some of my favourite scores combine the two elements - The Matrix, A Quiet Place, Se7en, Battle Royale and from games - Detroit: Become Human, What Remains of Edith Finch, Ghost of Tsushima.
I love exploring media from different countries, perhaps because of my heritage: I am a composer of Bangladeshi/Georgian origin who was born in Russia, studied in UK, and now have come to Los Angeles!
I've been fortunate to work with student and early-career directors from all over the world: Russia, UK, France, Australia, with projects ranging from light-hearted animation to horror. One of the last short films I worked on, RIO, has been included into many film festivals, winning in its respective category in festivals such as Orvieto, Tel Aviv, Nashville and many more, including Oscar and BAFTA qualifying class A ZINEBI film festival.
My US debut happened in 2021 with "TwoBears", a film by Anthony Florez that has been selected into Palm Springs Short Film Festival and Hollyshorts (screening in LA Chinese theatre soon!)
In addition to developing relationships with student and early career directors, I work in advertising and provided music for clients such as Gucci Russia and Tiffany and created an audio logo for a Russian real estate company.
Although screen scoring is my primary passion, I've never stopped exploring other areas of composition. Among highlights I would include conducting performance of my piece for nine harps at Ancenis Harp Festival in France, having my electronic music played at Fabric, one of the biggest London nightclubs, and getting to the finals of Darryl Runswick Contemporary Music Competition.