Matthew O'Connor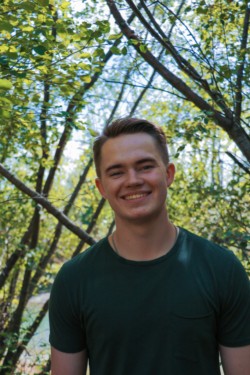 My name is Matthew O'Connor and I am a composer for video games and film. I love producing scores with a unique sound palette. I often create original instruments using my own recordings, and place these instruments in reverberant spaces that I have also captured myself. My goal is to create an original score that is as unique as the project it is supporting. I also work in video game audio implementation in Wwise and look forward to exploring the possibilities of interactive audio with students at USC. Some of my favorite projects I've worked on include "Arsbinia" (mobile video game), "The Golden Strand" (360 short film), and "Life on The Edge" (educational video game). You can hear music from these projects and many others on my website!
I was born in Alberta, Canada in the foothills of the Rocky Mountains and I find constant inspiration in the natural world. I hope to one day work on projects like Our Planet that inspire people to value the world around us. When I am not composing, you'll find me out hiking or inside getting lost in open-world video games like Middle Earth: Shadow of War, Red Dead Redemption or Assassin's Creed.
Please feel free to reach out at any time at my email below!