Louisa Byron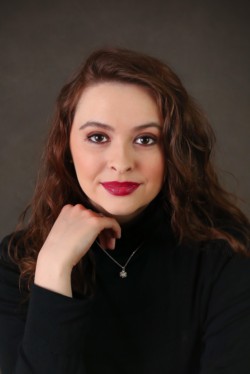 Welcome! My name is Louisa Byron and thank you for visiting my page.
I've always loved going to the movies. Once the film was finished, I'd come home with excitement because I couldn't wait to go outside on my family farm in Minnesota and pretend I was the lead actress in the story. While running across the corn fields or racing around on the four wheeler, all I could hear in my head were the scores to my favorite movies.
I am a multi-genre violinist, violist, and composer for multimedia. In 2021, I graduated Magna Cum Laude from the Berklee College of Music with majors in Film Scoring, Violin Performance, and minors in Conducting and Video Game Scoring.
As a composer, I enjoy writing for orchestra, string quartets, quintets, and piano trios. In my first year at Berklee College of Music, I was awarded the 2016 Berklee Writing and Composition Scholarship. I placed first with my string quartet, 'Lost" in the 2016 Class 4 division of the Minnesota Federation of Music Clubs Junior Composers competition. Later, I moved on and won 1st place at the National level. I was awarded the 2019 Video Game Audio Endowed Scholarship for Women and in the spring of 2020, I was recognized by the Berklee Film Scoring Department and was presented with the Barnes & Noble Award. Fall of 2020, I scored my first short film titled, Chem 450, written and directed by Grace Ann Philips.
After graduating, I have had the opportunity to write for music library companies such as Audiomachine and MPATH LLC. My debut track for Audiomachine titled, Murmuration, is featured on Audiomachine Studio Series's album, Strung Out. In addition, I have two tracks titled, Better Half and Edgy Blue featured on MPATH LLC's Phenomenal Women Vol. 11 and 13. Currently, I am pursuing my masters degree in Screen Scoring at USC Thornton School of Music. Feel free to reach me by my email, and I look forward to creating the perfect sound for your story.