Hanxiu Zhang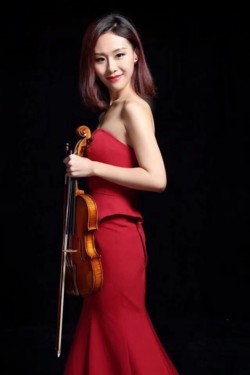 Instagram:zhang_hanxiu Wechat:zhanghanxiu001
Hanxiu Zhang is a film composer, producer, songwriter and violinist, currently based in Los Angeles. Her work has appeared in film, television, documentary, animation, commercial, classical music, pop music, musical. She has a persistent pursuit of music from childhood and started to learn violin from the age of 4.
She was admitted to the affiliated high school of Nanjing University Of The Art with the highest score in her major and started studying composition and got her first Master's degree in Nanjing University Of The Art and successfully held a solo concert in 2017.
As a composer of screen and technology music, Hanxiu has not only worked with studio musicians, but also worked in a symphony orchestra as the first violin and a composer. Playing various kinds of different symphonies and communicating with many famous composers inspired her to think more about composition and become a professional composer. Her composition was performed by Jiangsu symphony orchestra in 2019.
She has a passion for music and strongly believe that with the combination with music, the plots and twists of stories can be maximally enhanced for creating unforgettable audience experience. A staff member of a professional organization in Jiangsu Symphony Orchestra, she is willing to give up a good career as a violinist to pursue my career in film scoring.
She is willing to hear about what you're creating and I'd love to collaborate and create something exciting together. Please don't hesitate to ask me any questions. I'll get in touch as soon as possible.