Ethan Harbour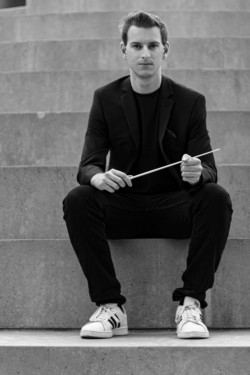 Ethan brings a unique versatility to film scoring through his experience in several different genres and platforms. At the age of 18, Ethan composed the music for the indie horror feature, Self-Storage (2019), through which he fell in love with the process of fitting music to picture and creating unique sonic landscapes. Since then, he has gone on to work for Benjamin Wallfisch (Blade Runner 2049, It, Mortal Kombat), and write additional music for Pancho Burgos (Unbreakable Boy, Teen Wolf, High School Musical 3). These opportunities have allowed Ethan to learn from some of the absolute best in the business, and he looks forward to continuing to learn under the esteemed faculty of the USC Screen Scoring program as he pursues his masters degree this coming year.
Ethan holds a B.M., summa cum laude, in Media Composition and Commercial Writing from Cal State University Northridge, following in the footsteps of his parents who were both graduates of the CSUN music department. While at CSUN, Ethan received the media composition department's Igor Paltsev Scholarship (2019), as well the Dean's Recognition Award (2018). He was also inducted into the Pi Kappa Lambda Music Honor Society (2019), during his junior year.
Ethan is always looking to collaborate on new and exciting projects, so please don't hesitate to reach out via the email link above.