Christa Duggan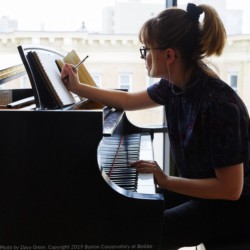 Hi there! My name is Christa & I appreciate you taking the time to learn more about me and my music.
In May 2021, I graduated from the Boston Conservatory at Berklee with a BM in composition and a minor in Screen Scoring from the Berklee College of Music. Throughout undergrad, I was able to compose for a variety of different instruments and ensembles, ranging from solo to orchestral and choral works, and wrote for different art forms including visual art, dance, multimedia, and film. Feel free to check out my website to see some examples!
For the past year, I have had the opportunity to be the Vice President of Operations for Mpath Music, a female-owned music production library for Film and TV, here in LA. This has allowed me to carry out my passion of changing the narrative for underrepresented composers in the film scoring industry.
What draws me the most to film, tv, video games, and other forms of multimedia is that they are all deeply rooted and founded in collaboration. The energy and excitement of creating art with others is the number one thing I enjoy the most when working on projects.
As a composer, storytelling is my passion and I welcome and invite any opportunity to experiment and explore new genres and soundscapes. I enjoy writing all kinds of music and tend to gravitate towards action, electronic (synthesizers), orchestral and experimental music.
Please feel free to reach out to me at my email: christaduggan150@gmail.com
Favorite TV shows right now: The Witcher, Loki, Ozark, The Great, Halston, Queen's Gambit, Stranger Things
Favorite scores: Joker - Hildur Gudnadottir, Avatar - James Horner, Mr. Robot - Mac Quayle, If Beale Street Could Talk - Nicholas Britell, Queen and Slim - Dev Hynes, Call Me By Your Name (Soundtrack), Fantastic Mr. Fox & The Shape of Water - Alexandre Desplat, Shawshank Redemption - Thomas Newman