Antonio Ibrahine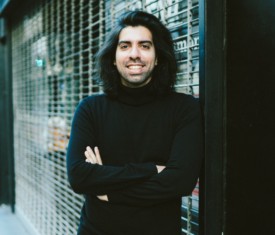 Welcome to my page! I'm Antonio Ibrahine, from Rio de Janeiro, Brazil.
Before moving to Los Angeles, I studied and worked in Brazil and in Germany. Both places helped me greatly to develop who I am as a composer and a storyteller. In those contrasting cultures, I could deepen myself in a wide range of styles (from Classical/Orchestral to Pop, Jazz, Brazilian music), which later ended up helping me so much on translating the director's ideas into music, and potentializing the storytelling..
In Germany, I also enhanced my passion for Electronic Music and Sound Design, which happens to be one of my favorite ways to support the narrative of movies or games. I believe that the creation of new unknown sounds for those media has the potential to make them truly memorable, transporting the audience to a completely new place with its distinct set of emotions, soundscapes, and tones.
In the last years, I have collaborated with more than 40 projects - mainly independent movies, games, video arts, and theatre. I was very fortunate to be nominated for the best Original Music in the "Feel the Reel International Film Festival", as well as for having participated in important film festivals, such as Rio de Janeiro International Film Festival. In the year of 2021, I was very honored to receive the Harry Warren Award to study Screen Scoring at the USC, where I'm currently enrolled.
Hobby: I pretend I can read other people's horoscopes (and they believe it).
Three movies that impacted me deeply: Interstellar(Nolan), Loveless(Zvyagintsev) and Birdman(Iñárritu).
Favorite three games: Rome Total War, Skyrim and the old but gold Diablo 2.
If you would like to collaborate and create special work together, just hit me up on antonioibrahine@gmail.com !