Surin Song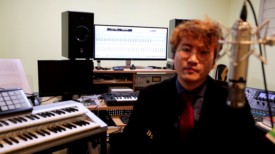 Surin Song is a professional, well-trained score composer, multi-instrumentalist and audio engineer based in Los Angeles. As a film composer, he has ever composed for over 30 independent movies, animated films, documentaries, video game trailers with his versatile vocabulary in music. He has officially won a silver medal award in Global Music Award 2018 in United States with his full-length studio album production.
He has scored for a variety of films with all different music genres such as 'Noboru', 'Daffodil', 'Second Star to the Right' credited in HBO and IMDB, and he has worked not only with a nationally known composer Mark Watters, who is a six-time Emmy Award winning composer and the music director of Atlanta / Salt Lake City Olympic games, but with William V. Malpede, who is also a prestigious Hollywood composer for Disney Junior channel and his mentor.
Surin is also an officially certified versatile audio engineer who has a lot of recording, live audio engineering, mixing and even mastering experience with a variety of peer film directors, producers and musicians in a large recording studio and a wide range of concert halls during his work years. He is very tech-savvy in terms of managing both analog gear and software, and he loves to add analog flavors in all of his sound engineering works with his hardware equipment in his own studio. In this respect, he will deliver you his spectacular music making your film so much come alive with the top organic audio quality.
He is a member of 'The Society of Composers and Lyricists' as well as 'American Society of Composers, Authors and Publishers', and he received a formal education in Film Scoring (BM) at California State University, Northridge. Now he is joining Screen Scoring (MM) program in University of Southern California in 2021.