Nicoletta Nomicou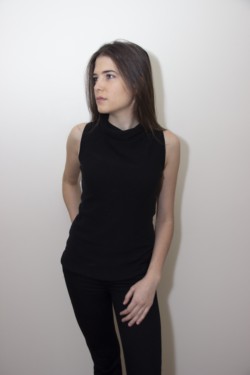 I am a Composer for Film and Video Games, and Classical Pianist from Athens, Greece. I graduated from Berklee College of Music in Boston where I pursued a dual degree in Film Scoring and Contemporary Writing and Production, and a minor in Video Game scoring . I was selected as the 2020 recipient of the George Delerue Memorial Award, the highest Film Scoring scholarship offered to "a senior student of extraordinary talent .. in memory of the Oscar-Winning composer". I was also the 2020 winner of the Commencement Processional Composition Competition, giving me the honor to have composed Berklee's graduation march with John Legend and Sheila E. as two of the honorary doctorate recipients. During my time at Berklee, I studied privately with with Tony & Emmy award winner and Grammy nominated Composer/Orchestrator Bill Elliott, Grammy winner Film Composer Claudio Ragazzi, and Emmy nominated Film Composer Sheldon Mirowitz.
After Berklee, I interned for the Academy of Motion Picture Arts and Sciences and graduated from their Academy Gold Program (72 participants over 7,000 applicants). I have already scored 10 short films and 2 video games. In addition, I wrote music for the Main Titles of a feature film, for which I was also the sound designer. Some of my recent credits include the orchestration of a Video Game whose developer has over 822K subscribers on YouTube.
Music is the best way i can really express herself and be authentic. My interest in music traces back to when I was 6 years old, listening to and observing my mother creating her own compositions at the piano. Whenever she would stop playing, I would sit in front of the piano and start improvising and playing what I heard by ear. After I realized I had the ability to reproduce whatever I heard, I started having piano lessons. By the age of 10, I was already composing my own pieces and performing for large audiences, including a charity event where the Princess of Serbia was present.
In addition to my classical piano training, I am also a self taught drummer, guitarist, and vocalist. Except Film and Video Game music, I enjoy composing popular and instrumental pieces. My instrumental pieces are mostly minimalistic, expressing my feelings and thoughts. Film scoring allows me to bring out all the unspoken words of a scene with my music. Nothing makes me as fulfilled as scoring to picture.
I am looking forward to collaborating with aspiring directors, film makers, and video game developers who have great things to say.