Nan Zhang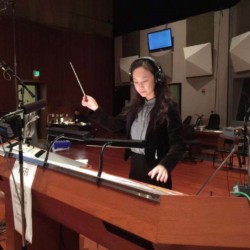 Nan Zhang has been working as a songwriter,composer for visual media for over 10 years. Nan graduated from Thornton School of Music,University of Southern California, specialized in Screen Scoring. Prior to USC, Nan earned a Bachelor of Engineering in Recording Engineering from Communication University of China and she also studied in China Conservatory Music for Practical Composition.
Nan started to study piano when she was 4 year old and then she composed her very first piano piece at age five Nan began her music career with her first song published during her college. With strong enthusiasm in music, She quit from a stable job of recording engineer in China Central Television and became an independent composer .
Nan composed a lot of popular songs for many famous Chinese singers including the campaign of China Super Girl Chris Lee and Zhou Xun whom is a well-known Chinese actress once obtained the 30th Annual Primetime Emmy Awards nomination. Her song Farewell Carmen was also gained an honor for broadcasting on the spring festival gala of China Central Television which has over one billion audiences in China. Nan's song "Give Me Five" for the campaign of China Super Girl: Li Yu Chun(Chris Lee)won "Best Song" award from The Chinese original pop music charts and "Goodbye Carmen" was broadcasted on the spring festival gala of CCTV which has over one billion audiences in China and also won"2004 Top Ten Golden Melody"award from Chinese Original Song Awards andEntertainment for People Awards.
In recent years, Nan's most wok has been focused on composition for Commercials, Fashion videos and TV series. She once composed the theme songs and all background music for a 30 episodes TV shows which broadcasted on China Central Television, named Harmony. With her unique and fresh ideas and techniques in music, Nan also owned a good reputation in especially high standard fashion brands, such as Canon, GUESS, BVLGARI, Cartier, Levi's, FILA,BMW, INFINITI and so on.
Nan is also a life-lover. She traveled around the world from Europe, North American to Asia. In her mind, a real art born from a real life,a real life is always an amazing journey.