Monika Mia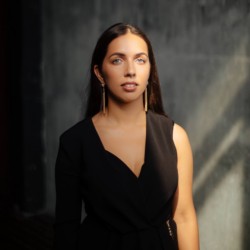 Music and storytelling have been a huge part of my life for a long time. I took piano and singing lessons as a child, later on adding composition lessons to that. I was equally passionate about literature and cinema, devouring books and acquainting myself with classics of Hollywood and European cinema, and writing short stories.
In 2016, I won the Grand Prix of Moscow Composer House in Composition and Arrangement, which sealed my intention of becoming a composer. That year I also left my city of birth Moscow and went to study composition in Trinity Laban Conservatoire (London), where I had the chance to hone my composition, orchestration and conducting skills, building on my previous experience with classical music. It was there that I realised that what I wanted to dedicate myself to was scoring for media, combining my two loves – that of music and storytelling!
During my time in London, I've also developed a keen interest in experimental electronic and dance music – it's hard not to when you live in a city with such a thriving electronic music scene! I've studied Advanced Sound Design and Music Production with Point Blank Music School. Adding these tools to my composer kit helped me further develop my musical language, especially in scoring science fiction, horror and thriller projects.
I've been fortunate to work with student and early-career directors from all over the world: Russia, UK, France, Australia, with projects ranging from light-hearted animation to horror. One of the last short films I worked on, RIO, has been included into many film festivals, including Oscar-qualifying Palm Springs International Shortfest and Nashville Film Festival.
From 2016 on, I have also been working in Creations in Music – a London-based company that provides bespoke music services for events, in the role of music assistant. My role was writing additional music and making mock ups.
In addition to developing relationships with student and early career directors, I work in advertising and provided music for clients such as Gucci Russia and Tiffany and created an audio logo for a Russian real estate company.
Although screen scoring is my primary passion, I've never stopped exploring other areas of composition. Among highlights I would include conducting performance of my piece for nine harps at Ancenis Harp Festival in France, having my electronic music played at Fabric, one of the biggest London nightclubs, and getting to the finals of Darryl Runswick Contemporary Music Competition.
At the moment I am working on two short films, a thriller from UK and a drama from Moscow – as well as finishing an album of my original music that blends songwriting, the sound of live strings and woodwind, electronics and elements of sound design.