Emmanuel Segarra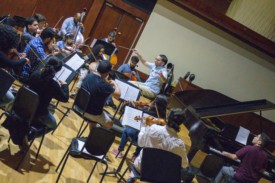 Emmanuel Segarra Ortiz was born on June 25, 1997 in Bayamón, Puerto Rico. While in a musical family he learned to play the trumpet with his father and then alto saxophone when he entered the Escuela Libre de Música in San Juan.
In 2014 he won the "Best Composer" prize awarded by the Smithsonian Institute in the American Sabor Concert Band Contest and in that event, Emmanuel had the opportunity to debut as a conductor with the Concert Band of the Escuela Libre de Música and then with the Concert Band of Puerto Rico.
In 2018 he won the award for best "Instrumental Dance" of the Institute of Culture of Puerto Rico (ICP) and that same year he co-founded along with pianist Bryan Ojeda Chevres the Young Artists Concert Series (YACSPR) and the Young Artists Concert Orchestra ( YACOPR), initiatives that give young musicians and composers an opportunity to make themselves known and exposed to a real public. In 2019 he graduated with honors obtaining a Bachelor in Composition from the Conservatory of Music of Puerto Rico (CMPR), under the tutelage of the renowned composer Alfonso Fuentes. In his graduation recital he had the opportunity to conduct the Puerto Rico Wind Symphony (PRWS) premiering his Concertino for Trumpet and Band accompanied by the renowned trumpeter José Valdés. In the summer of 2019 he was accepted to the Fillm Scoring Summer Workshop at the University of New York (NYU) where he had the opportunity to exchange ideas and learn from the composers: Michael Levine, Mark Snow and Mark Souzzo.
In the present Emmanuel Segarra keeps composing and collaborating with different forms of media such as Film and Videogames projects.
For more samples of his work please visit: https://www.emmanuelsegarramusic.com/ and https://soundcloud.com/esegarra_composer