Annah Tencic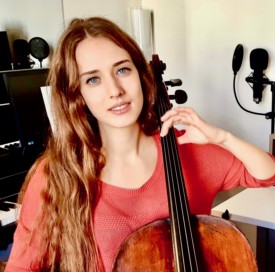 Hi! I am Annah, a composer and cellist from Paris.
Recently, I have mostly been working on composing the soundtracks for 2 short films ("Have a look inside the Dark room: Didier" and "The Last Run"), as well as writing and recording some original music for a theater play (Bernard Shaw's "Arms and the Man").
I grew up playing the cello and singing in the choir. Later on, I learnt to play the piano, and studied at the Conservatory of Paris, where I started writing down my first compositions. I also joined a band, where I picked up the bass guitar and the drums. That way, I got to immerse myself in other music genres (Rock, Soul, Folk, Jazz). At the moment, I am experimenting with the scottish bagpipes.
After completing my Master of Science in Paris, my lifelong passion for music and love of stories drove me to finally pursue my dream of becoming a professional composer. I bought my own pro studio equipment and had the privilege to get admitted into USC Thornton's Screen Scoring Master in Los Angeles.
I am very excited to continue walking this path and to bring new stories to life in collaboration with film directors and fellow artists. If you wish to tell a story with me, I will be very happy to meet you, so please don't hesitate to contact me.
To hear more of my work, please visit my website: https://annahtencic.wixsite.com/annahtenciccomposer . Cheers!