Zong Chiang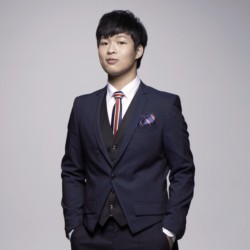 Zong Chiang is a versatile multi-instrumental musician and composer. Currently based in San Francisco/Los Angeles, he is active in the Chinese film and television as well as music and pop music industries. His creative style is diverse and his style leaves a profound impression. Zong specializes in composing for the big screen, orchestral arrangements, and combining diverse electronic and symphonic musical elements to create music that fascinates the senses.
Hailed as one of the youngest musical prodigies in Taiwan, 23-year-old Zong Chiang began composing at the age of 10 and became the youngest-ever Chinese record producer at the age of 12. By the age of 17, in collaboration with directors, Chiang began composing for commercial productions. In 2014, at the invitation of the mayor and educational commissioner of Shanghai, Zong, a high school student at the time, performed at the opening ceremony of the 12th National Sports Competition for Secondary Education in Shanghai, China. In 2018, he embarked on a global campus tour that took him from San Francisco to Shanghai to Taipei, performing at four different venues. His remarkable stage presence, exceptional musical talent, and the pioneering global collaboration featured in his inaugural tour caught the attention of major media outlets in Taiwan and China, and was covered by cable TV as well as Yahoo's entertainment portal. In 2018, Zong's "The Traveler・101" was selected as the ambient soundtrack for the Taipei 101 stop of the city's subway system. As the designated ambient music representing one of Taiwan's most renowned landmarks, this unique masterpiece garnered critical acclaim from the media.
Zong Chiang gives new meaning to red carpet music at the 30th Golden Melody Awards (GMAs). Known as the Grammys in the Chinese-speaking world, the award ceremony was held on Saturday, June 29, 2019 at the Taipei Arena in Taiwan to honor and recognize outstanding achievement in the popular and traditional music industry for Mandarin, Taiwanese, Hakka, and Formosan-languages creations.
Zong has already produced over 10 solo albums to date and over 100 original compositions. His original creations are featured in a wide array of productions spanning from television dramas and films to documentaries and advertisements.
He has recently gathered an international team of musicians including elite American performers, Taiwanese pop music producers, and a musical planning group based in Shanghai. Zong also works closely with the film and video game communities in San Francisco as well as leading artists around the world, producing innovative masterpieces, including creations that showcase new ideas resulting from cross-border cooperation.

Education:
B.A. in Technology and Applied Composition, San Francisco Conservatory of Music;
M.M. in Screen Scoring, USC Thornton School of Music.

More Information:
Website: http://zongchiang-en.blogspot.com
Soundcloud: https://soundcloud.com/zong-chiang-822372989
Email: jungtsun@usc.edu
Work: