Sterling Maffe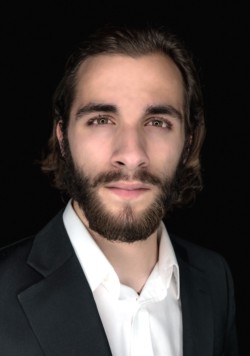 Sterling Maffe (b. 1996) is an American composer, conductor, and pianist. In his robust young career, Maffe has demonstrated the ability to write in every style and idiom with a voice that is unique and innovative. Through an ever-expanding repertoire of contemporary classical pieces and scores for film, Maffe has established himself as an up-and-coming composer both in the concert hall and on the scoring stage (read full bio on official website).
---
Thanks for stopping by! Here you'll find some of my favorite compositions, I hope you'll take some time to peruse (more music here!). Feel free to give my website a visit for more of my work, and send me an email if you want to chat.
I began composing at the end of 2010 because there was a stark lack of music in my iPod library (remember iPods?) that began with the letter 'X'. Here we are, nearly a decade later and I couldn't be more thankful that I acted on that silly compulsion.
At 15, my professional career began in the concert hall when I conducted my first live performance. The collaboration of dozens of talented musicians to speak emotion and story into the ears of the audience was fascinating to me…and I could do an entire performance with my back to the audience which drastically cut down my propensity for stage fright.
The ultimate feat of collaboration in art and story is film, and since the time I was just old enough to do my own theme music on a rocking horse (my mother reports), it has been my desire to be involved with this magical medium through music.
My goal decided, I set out to achieve the most steady, reliable, and least-competitive job I could find: being a film composer.
Through my studies and from the advice of film composers whom I've crossed paths with such as Hans Zimmer, Alan Silvestri, and David Newman, I have learned that there is really no easy "A to B" itinerary for infiltrating one of the toughest industries in the world. Work is very much a parabolic venture; starting is nearly impossible and it comes with many headlong sprints into metaphorical brick walls. However, I've found that the resulting concussions have made me more resilient and determined in my quest. With just the right amount of hard work and the guiding hand of providence, I might contribute my small pebble to the mountain of cinematic accomplishments that have come before me.
The very best music, especially in film, has the power to transport one through space and time to fantastical alternate realities which are sometimes teeming with mythical life and sometimes only a hair or two different from our own. Whether it's a single instrument or an entire symphony orchestra and choir to boot, I strive for this phenomenon in my own music, following the example of my greatest role models—John Williams, Alan Silvestri, James Horner, Jerry Goldsmith, and Bernard Herrmann to name a few.
My highest aspiration is to write the music for Hollywood blockbusters wherein I can express a story of magnitude to the fullest whilst working with the brightest minds in film and the most brilliant musicians on the scoring stage (do they have a composer for Star Wars: Episode XXII yet?).
USC has always been the pinnacle of film music training, so to be given the opportunity to study here as the namesake honoree of Sandra and Alan Silvestri's Screen Scoring Scholarship is an immense privilege for which I am incredibly grateful.
Featured Videos