Prateek Rajagopal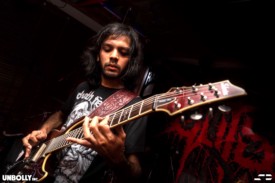 Hey, thanks for stopping by! I'm Prateek Rajagopal, and I'm extremely passionate about bringing stories, games and VR to life using scores, songs and sound design.
I love collaborating with directors, understanding their vision, going deep into the characters' minds and translating those ideas and emotions into music. I also live for exploration of newer sounds, instruments and analog tools to meet that vision; so allow me to hop onto your story-telling journey and lets create something incredible together! Quick facts : Favourite Composers - Jonny Greenwood, Trent Reznor & Atticus Ross, Jóhann Jóhannsson, Clint Mansell, Ludwig Göransson, Danny Elfman, Steven Wilson, Mikael Akerfeldt, Thom Yorke, Hans Zimmer.
Favourite Bands - Radiohead, Nine Inch Nails, How To Destroy Angels, Opeth, Steven Wilson, Karnivool, The Pineapple Thief, King Crimson, Pink Floyd, Cynic, Mazzy Star, Portishead, Mogwai, TesseracT, Megadeth, Metallica, Hate Eternal.
Favourite Genres - Adept at Orchestral, Electronic, Industrial, Rock & Metal, Noise/Drone, Ambient/Minimalism, and anything involving guitars!
Favourite Directors - David Fincher, David Lynch, Darren Aronofsky, Ridley Scott, Christopher Nolan, Paul Thomas Anderson, Quentin Tarantino, Tim Burton, Alfred Hitchcock, Martin Scorsese
Favourite Games - Doom, The Last of Us, God of War, Spiderman, Crash Bandicoot.
Bio :
I started off as a guitarist very early on (after discovering Metallica!), and began using my instrument of choice to compose and produce music. As a resident of Oman for 18 years, I eventually moved to India and began touring worldwide, organically giving myself a worldview of musical ideas that developed my versatility as a composer.
My passion for heavier music led me to compose and produce critically acclaimed death and progressive metal records, but my foray into the world of progressive rock, avant-garde and art rock eventually led me into the world of film composition. I soon realised that I had the strong ability to connect music with pictures and story-telling, and hence began composing for visual media.
I am now a composer, producer and guitarist who has gracefully received accolades, recognition and awards as an artist, and I've been featured on Red Bull Music, Rolling Stone, VICE, Prog Magazine, Rotosound, Metal Injection and a multitude of popular media for my accomplishments. Having collaborated with some of the brightest musical minds and having produced and mixed albums across various genres, my modest experience has taught me a unique understanding of the distinctive ways to communicate through music. As a film-composer in LA, I hope to meet and share a long-term, viable and gratifying relationship with every director, collaborator and story-teller.
Videos :
Contact :
prateek.audio4@gmail.com / prateekr@usc.edu Facebook Instagram