Matt Miller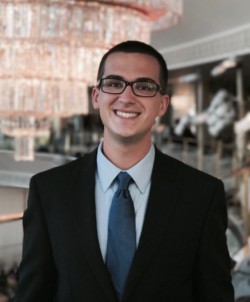 Matt Miller is an active composer for film, television, and video games in Southern California. With an extensive background in composition, conducting, and performing, he draws from a wide influence of musical styles and has found success composing for many genres of film. In addition to scoring numerous films and shorts, his original compositions and arrangements have been performed internationally as well as throughout the United States.
Miller is an accomplished conductor with a wide experience of working with many ensembles. He was selected as the winner of the 2018 Conducting Competition hosted by the CSULB Studio Orchestra, and was featured as a guest conductor at the orchestra's concert in the spring of 2019.
In 2019, Miller graduated from California State University, Long Beach in with a degree in music composition. He continues his studies in film scoring at the USC Thornton School of Music, pursuing a Master's degree in the world-renowned Screen Scoring program (class of 2020).
--
Favorite Films: Your Name, The Lord of the Rings trilogy, Rocky, Baby Driver, Parasite, Taxi Driver, Cinema Paradiso, Uncut Gems, Knives Out
Favorite Video Games: Zelda (all of em), Super Mario Sunshine, Super Smash Bros. Ultimate, The Last of Us, Undertale
Favorite TV Shows: Black Mirror, Rick and Morty, Cobra Kai, The Mandalorian, Sex Education, Avatar: The Last Airbender, My Hero Academia
Favorite Composers: John Williams, Ennio Morricone, Leonard Bernstein, Dmitri Shostakovich, George Harrison, The Beatles
--