Justin Schornstein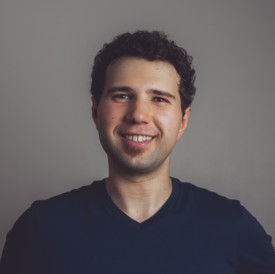 Justin Schornstein is a composer, producer and bassist from northern NJ. Justin's music for film has been featured internationally and in venues like the Tribeca Film Festival. In addition to his work as a composer, Justin has recorded and performed across the world as a bassist with Grammy award-winning artists and some of the brightest lights in jazz. Full bio on Justin's website

---
Hi, I'm Justin!
Thanks for stopping by my corner of USC. Here's a little bit about my background and what I'm hoping to do here in LA:
I began my career as a composer in 2011, and since then I've accrued a wide variety of experience. I've helped student filmmakers to realize their first visions. I've pushed alongside up and coming filmmakers to get their shorts to major film festivals. I've gone above and beyond to create unique sonic footprints for indie features, and I've built musical worlds for games.
My central ethic as a composer is to always do what is best for the project and to realize the vision of the filmmaker/creative director. I believe that there is a score already living inside every project, and it's my job to bring it out. I think this ethic has resulted in a very diverse body of musical work and creative relationships.
I have a great love for Hollywood's history, the work and the people behind it. I'm thrilled when I get the chance to draw on the heritage of film music and reinvent well-loved and familiar vocabulary for new projects. One of my dream projects would be to compose for a classic franchise (Mission: Impossible, James Bond, Star Trek).
Simultaneously, we live in the present and there are new ideas to be communicated and new stories to be told. I'd love to blaze trails and do things that are completely new, especially in comedy (Insecure, Ramy, Easy, A Black Lady Sketch Show), and also drama (Ozark, The Leftovers, True Detective).
I have a lifelong love of animation and the freedom that composers are given in the genre for big musical ideas, especially songs! As a musician, I can say from experience that having brilliant composers working on children's shows sets kids up for a love of great music in life. (Looney Tunes, Hanna-Barbera, Disney, Nickelodeon, CN, the WB). I'm also a huge fan of grown-up cartoons and their music (Family Guy, Rick and Morty).
Last but certainly not least, I have a great interest in doing new things with games and interactive media. In the past year I've been doing a lot of research specifically about immersive audio, VR/AR, and also 360º video, and would be ecstatic to meet some talented people doing work on that frontier. During my time at Berklee I also completed the brand new Video Game Scoring program where I collaborated with USC Games Division students, and I have experience composing and integrating interactive music and audio into games using tools like Wwise and FMOD.
If you have any questions or would like to meet up to chat about your upcoming projects, please send me an email!
Thanks for reading/listening, and I'm very much looking forward to collaborating with you this year!
(A note: All the tracks on the right were made for and used in actual films or games with the exception of "Strollin'," "Thriller," and "Star-Crossed Lovers")
Education:
Berklee College of Music BM Film Scoring and Performance '14
Juilliard Extension School Conducting '18-19
USC MM Screen Scoring '20
More Info:
Website:
http://www.makemusicjustin.com
IMDB:
https://www.imdb.com/name/nm4965996/
Justin's Email
Justin's USC Email
Featured Videos