Isaac Mailach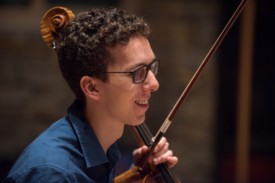 Isaac Mailach is passionate about storytelling through music, which can be seen in both his music compositions and his cello performances. He recently received his Bachelor of Music in Composition and Cello Performance from Wilfrid Laurier University, and is pursuing a Master of Music in Screen Scoring at the University of Southern California. Some of Isaac's mentors include composer Linda Catlin Smith and cellist Katie Schlaikjer. Isaac aspires to compose music for all types of visual media, particularly in the realms of film, television, and video games. Isaac has composed the scores for several short films, and recently completed work on the score for a feature-length documentary entitled Before the Plate. To hear some of Isaac's works, check out his website at www.isaacmailach.im.
---
My name is Isaac Mailach, and I am a self-proclaimed nerd.
I love learning about pretty much anything and everything, from baking to astrophysics. I started playing the cello when I was 3, and I knew I wanted to compose music for visual media when I was 17. Since then, not much has changed, except that I'm a little better at both those things. I would describe my composition style as grounded in experimental post-modern abstract-expressionist minimalism (with a tinge of absurdism).
In my spare time, I enjoy going on hikes in beautiful Canadian forests (yes, I'll admit I'm from Canada), reading a book by J.R.R. Tolkien, and watching Adventure Time on loop. If you enjoy any of these three things, we are bound to get along.