Brett Bailey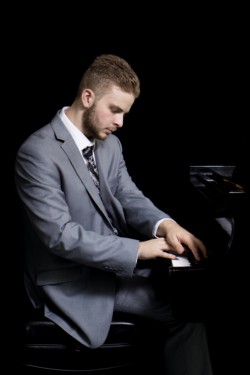 Brett Bailey strives to immerse audiences in a world apart from their own through music. This requires a fundamental understanding of music/film, willingness to function as part of a team, and a love for the craft. Through these skills, he has learned how to personify characters and storylines through music.
From an early age, Brett was poised to become a musician. At eight months old, he could sing before he could talk and by age three was playing songs on the piano by ear without formal music training. Having piano and cello lessons as a child, Brett always enjoyed improvising and messing around, which would manifest into compositions later into his teen years.
Around the age of fifteen, Brett started getting serious about composition. His classical piano training, along with participation in orchestra and choirs, served as a strong foundation for composition and orchestration. Along the way, Brett discovered his passion for film scoring when re-watching the Star Wars prequels. He started looking into it as a legitimate career choice and decided to go all in.
Brett attended West Chester University of Pennsylvania from 2015-19 studying Music Composition with a Minor in Music Production. The opportunities offered from the faculty and students were essential in his musical development, getting to record the WCU Symphony Orchestra and individual soloists.
Last year Brett interned at Angry Mob Music, where he learned a lot about the publishing and logistical aspects of the music industry. In this time he also collaborated with video game designer Dylan Alter on an upcoming video game entitled Last Stop to Tokyo, and video marketer Rob Keller on the docuseries I Choose Extraordinary.
Today, Brett studies Screen Scoring at USC. He is optimistic in his future endeavors and is looking forward to working with the illustrious talent the school has to offer!
https://www.brettbaileymusic.com
https://soundcloud.com/brett-bailey-21