Austin Hammonds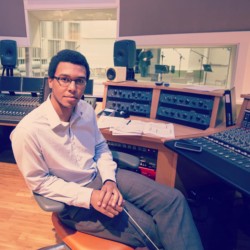 Nonsense, Notes, and Narrative
With my two passions being music and storytelling, a career in the film music industry was an obvious choice to pursue. Music's power to manipulate our emotions and give additional depth to a character or scene is fascinating. But even more so than storytelling, I am incredibly invested in world building within film. There is nothing more satisfying than when visual media and music work together to create a world that is believable and awe inspiring. In my opinion, the best films are those that have a story, characters, and a world so believable that viewers leave the theater feeling like they were a part of that world the whole time.
I am truly looking forward to meeting film makers who share my same passion for storytelling and world building! Together we can shape new narratives and hopefully inspire future generations with our craft.
Interested in collaborating? Feel free to contact me via email at austinl.hammondscomposer@gmail.com, or through my website at www.austinhammonds.com and we can set up a meeting!


A Little About Me (Bio)
I am a film and media composer originally from Ashland, Kentucky. In 2017, I graduated from Morehead State University in Morehead, Kentucky where I studied music and first began composing music. During my time there I wrote music for various ensembles including the MSU trombone ensemble, the MSU "MoreSax" saxophone ensemble, and the MSU concert band. In 2017, I had my first major concert music premiere "Dawn Fanfare" with the Cave Run Symphony Orchestra of Morehead, Kentucky. (An iteration of this piece can be heard at the beginning of the track "The Great Race") While at MSU, I realized my passion for film and film music and began to take steps to move my career in that direction.
I later continued my education at the University of Miami as a full tuition scholar and teaching assistant for the Media Writing and Production program at the Frost School of Music. During my time there, I explored my passion for writing music for motion picture through the many film scoring courses offered within the degree. I studied under film composers Carlos Rafael Rivera (Godless 2017, A Walk Among the Tombstones 2014) and Chris Boardman (Local Color 2006, Payback 1999) gaining new perspectives on the art of storytelling through music.
Throughout my time at UM, I was fortunate enough to write the scores for 6 films that premiered at the Canes Film Festival in 2018 and 2019 and two films at the Scares and Scores Film Festival in 2017 and 2018. Later in 2019 at the Henry Mancini Institute Chamber music concert, I conducted my score for a short film titled Love and Interest, written and edited by Gonzalo Mejia, live to picture.
I believe a composer's flexibility is their greatest asset. Having written a variety of scores for many different genres of film, this belief is something I practice as much as possible. That being said, my greatest strength lies in the use of the orchestra in my scores. I use the orchestra for its wide range of emotional flexibility and believe it to be profoundly impactful when used appropriately. This is even true when the orchestra is used in tandem with other electronic or synthetic musical elements.
Now that I am fortunate enough to be here at the University of Southern California, I look forward to meeting and working with colleagues to tell stories and build worlds.