Robert Wolf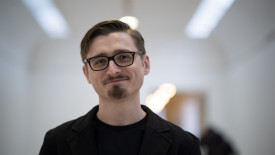 I am Robert Wolf, a composer, gamer, and multi-instrumentalist. My main instrument is the tenor-saxophone, but I also make music using my guitar, accordion, clarinet, and Gameboy.
I am from Berlin, Germany where I obtained a Bachelor of Education in Music. During my undergraduate studies, I was fortunate to participate in workshops with many well-known composers for film and games.
Over the last half decade of working in film composition, I have also written music for many different forms of media and for a range of diverse clients. The specific requirements of these jobs have always been exciting and have taught me more about my own craft. I have composed for theatre productions, corporate multi-media film screenings, photo exhibitions, advertisements, and virtual reality. It has been a stimulating process combining the knowledge from these jobs with my experience scoring for film. Furthermore, I am fascinated by the unique challenge of writing film and game music that combines traditional compositional approaches with cutting edge technologies.
Fundamentally, the interaction with live musicians remains one of my favorite aspects of my profession. I had the pleasure of recording some of my tracks with a string orchestra in Vienna and recorded solo musicians as well as a jazz combo for other projects. Working with larger orchestra sizes and getting to know the studio musicians in L.A. is the part of this graduate program that I am most excited about!
Time Machine from Eric Giessmann on Vimeo.
TYPEWRITERHEAD from Eric Giessmann on Vimeo.
VR-Art by Anna Zhilyaeva