Robert Treves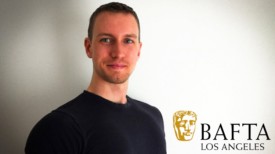 Hi, I'm Rob from England. I'm a multi instrumentalist but primarily a guitarist. My main focus is writing and producing music. I really enjoy the creative process behind making movies. I consider film composers to be filmmakers as much as any other crew member, and I believe serving the story is the most important job role composers must fulfil.
I am a huge film buff and love everything to do with movies. I grew up on the films of Spielberg, Zemeckis and Lucas and have been greatly influenced by them. I also love the classic films from the golden age of Hollywood. More recently I've been enjoying the films of directors such as Steve McQueen, Denis Villeneuve, Ryan Coogler, Edgar Wright and Barry Jenkins.
My musical style is broad and eclectic, covering anything from J Dilla to Debussy. This makes me very versatile as a composer as it allows me to write for a number of different styles and genres.
I love the challenge of making music to serve something bigger than itself. I look forward to working closely with the fantastic new talent that L.A has to offer in the world of Film.
Full Bio Below..
---
---
---
---
---
---
Full Bio: Robert is a Film/TV Composer, Music Producer and Songwriter from Hertfordshire England. Having accumulated a broad range of creative influences over the years, Robert's passion and talent allow him to pursue a wide range of projects in both the music and film industries. From composing music for motion picture to producing hip-hop and pop records, Robert has gained a reputation for having a diverse musical mind.
Picking up the guitar at the age of 10, he was set on a path to pursuing a career in music. After playing as a guitarist in bands for many years and developing a strong interest in all types of music, Robert decided to continue his education at the Leeds College of Music in northern England. It was here where Robert's love for Film/TV/Video Game scoring came into fruition. He received distinct praise and recognition from his tutors and visiting lecturers (many of whom included successful well known film directors, producers, composers and orchestrators).
Robert's recent work has seen him working with a UK based classical choir as their music producer and arranger and also as a musician in residence in various schools in England where he offers advice to young musicians. He is also currently working in the music industry as a Songwriter and Producer alongside several British artists.
Robert has scored the music to a number of short and independent films which have been screened and nominated at various UK and European film festivals. Robert has also written music for a variety of other visual media projects.
After enrolling on the 2018/19 Screen Scoring program at USC Thornton School of Music, Robert was awarded the 'Nordstrom Family Scholarship'. Most recently Robert has been welcomed into the British Academy of Film and Television Arts family after becoming the recipient of the 'BAFTA LA Access for all Scholarship'. He looks forward to beginning the next stage of his career out in Los Angeles, as he continues to strive to master his craft and bring his unique style and British energy to the world of music and film.