PHAR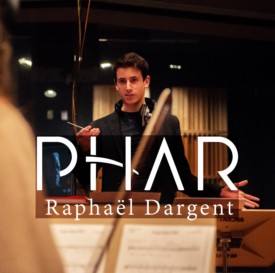 Important Facts
Favorite movies : Fight Club, Interstellar, Gladiator, 2001 : A Space Odyssey
Favorite Music : Everything from Radiohead to Beethoven
Favorite color : Red
Favorite food : please send an email at contact@phar.world
Overview :
PHAR (Raphaël Dargent) is a composer from Paris, based in Los Angeles. His work include soundtracks for films, animations, short movies, and video games.
Filmmakers, don't hesitate to shoot me an email, even if I have already graduated !
Education :
In 2019 he graduated from the USC Thornton Music School Screen Scoring Master program where he got awarded the Harry Warren scholarship and got accepted in the Pi Kappa Lambda National Music Honor Society. He has also graduated from the ESSEC business school in Paris and owns a Master degree in management with a specialization in entrepreneurship.
Serious Bio (just in case some people actually read that stuff) :
PHAR (Raphaël Dargent) was born in Paris. He spent his childhood in Tokyo, studying the piano and classical composers who had major influence on his work (Bach, Beethoven, Rachmaninov). At the age of 12 he discovered rock and electronic music and quickly extended his learning to synthesizers, guitar, bass guitar, drums, vocals and violin. His passion for music has led him to record himself and use computer music technology since a very young age.
It was only a matter of time before he realized his strong ability to relate stories, as well as his musical and creative talent, were to merge into film music composition. After getting a degree from the ESSEC business school in entrepreneurship. He decided to move to Los Angeles and graduated from the USC Screen Scoring master program for which he received the Harry Warren Scholarship. He was also admitted into the Pi Kappa Lambda National Music Honor Society.
​
Since then he has scored numerous projects including features, shorts, commercials, video games as well as the music for the French Presidency in 2017. PHAR is a music composer who will meet any of your expectations when it comes to composing tailor made music for your project.
See more :
Website : https://www.phar.world/
Facebook : https://www.facebook.com/pharmusic/
Youtube : https://www.youtube.com/channel/UCoXGfW73jQUyCBgNLQEyTEA