Nathan Alexander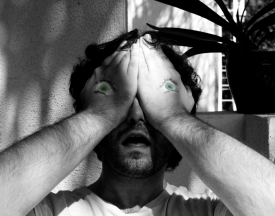 I used to live in New York City. I ghostwrote music for ads; we sold makeup, we sold cars, we sold corporate branding. I hate ads.
I also scored a bunch of short films. Some were good, some were bad; some were live action and some were drawn. I like short films. I like long films.
I've also contributed to some bad reality tv, and I'm truly sorry.
Alejandro Jodorowsky, David Lynch, Phillip K. Dick, Kurt Vonnegut, the Coens, Charlie Brooker-- if you like these guys let's make a film together.
Like all my amazing colleagues here, I'm flexibly eclectic-- But: I'm also particularly interested in suspense/thriller/horror and cyberpunk dystopia. I have a Synthwave project called Hauser Prime which you can hear/read more about on my website under Work -> Hauser Prime.
I like scores which deeply blend organic and electronic elements, e.g., Mica Levi, Adam Taylor, Danny Bensi/Saunder Jurriaans. Some of my favorite current artists are: Tobacco/Black Moth Super Rainbow, Com Truise, Mac Demarco, Bibio, and Vulfpeck.
This bio probably reads more serious than I am. Bios can be misleading. I hate bios.