Mathias Coppens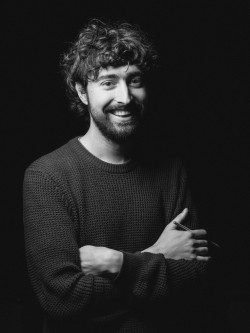 About stories.
Telling stories is everything we have. I believe we learn from stories.
We recognize ourselves and think, 'damn, that was me two years ago when I was madly in love..!' or 'that's totally my mom!' or... you get the point. Sometimes we see who we would like to be, or to be with (and you're touched). Sometimes you recognize what you don't dare to see in real life, the dark side of the moon... and sometimes you're so alienated that you don't recognize anything (but it's fascinating).
I like stories told in a slightly different way.
Terrence Malick, Paul Thomas Anderson, Christopher Nolan, Lars Von Trier, Paolo Sorrentino, Pedro Almodovar, Wes Anderson, Yorgos Lanthimos, Quentin Tarantino, Alejandro G. Inarritu, Wong Kar-wai, Sofia Coppola, Michael Haneke, the Coen brothers, Jim Jarmusch, Francois Ozon, Zhang Yimou, Dennis Villeneuve, David Fincher etc... (not to mention the old guys and girls)
and their stories are supported by great music: Thomas Newman, Jonny Greenwood (and Radiohead), Trent Reznor, Alexandre Desplat, Johan Johansson, Mica Levi, etc...
Stories need characters. It's basically one big metaphor for empathy. That drives me. Let's tell a story, together.
Or have a beer together (I'm Belgian), or some wine (we're close to France), Mathias
Short films
Rescores
BIO
Mathias graduated with the highest distinction for piano and composition at the conservatory in Antwerp and graduated in composition with 'excellence' at the conservatory of Amsterdam. As a pianist he played several concerto's and is active as soloist. He is artistic leader of the ensemble deCompagnie and founding member of Tetragonist with whom he recorded two cd's (Aliud and Phaedra records). He wrote for leading ensembles, orchestra's in Europe and worked in theater: Casco Phil, Bl!ndman, Symfony Orchestra of Flanders, Brussels Philharmonic, Eric Ericsson Chamber Choir, Asko-Schönbergensemble, Hermes Ensemble, Oddyseia Ensemble, Mosa Trio, Kugoni Trio, Theater de Spiegel, muziektheater deKolonie. He is the artistic director of the Klavierfestival and co-organizer of labsummerclass. Mathias is prof at the conservatory of Antwerp and Luca school of arts.
Mathias is going trough the USC screen scoring program and was awarded a BAEF-scholarship.