Mateus De Castro Machado Freire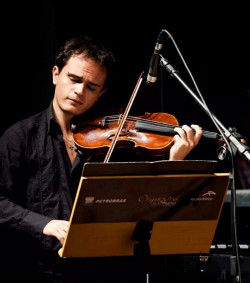 My Name is Mateus Freire and I'm from Brazil.
The passion of my life has been music since I was a child. Even in my tender years, I used to listen to music at home all day long and sing songs and melodies along with my parents.
At the age of 4, I started studying the violin. Soon I developed my skills and began to play by ear. From classical music to popular Brazilian songs, I gradually started to add my own ideas and feelings to them, thus exploring my creative imagination. I was fortunate to have a family that supported my passion for music and created an ideal musical environment that enabled me to begin composing simple melodies at a very young age. I truly enjoyed every minute of it. The violin was always my first instrument, but, as I enjoyed creating melodies, my mother encouraged me to start studying the piano at the age of twelve. This further increased my curiosity for new sounds and harmonies.
Studying the violin together with the piano helped me develop my composition skills, and at the age of 13 I began to write my first serious compositions and arrangements. What used to be a hobby became a habit and in the following years became my second job. Eventually I had the opportunity to write many different types of projects including musicals, theatre plays, concert music, and arrangements for famous Brazilian singers. On those projects I was able to work with all kinds of different ensembles from string quartets, to rock bands and full size symphonic orchestras.
My other biggest passion is cinema. I have always loved movies as an art form and the story telling aspect of it. Their soundtracks are fascinating for me because of the way they can affect the scene and enhance the story and the characters. Movies like Cinema Paradiso, Braveheart, E.T and many others marked my childhood and I always dreamed about being part of the process of making something so beautiful and so emotionally rewarding.
Although I had a stable position as a violinist and as a composer/arranger in Brazil, I decided to resign from my job and focus my efforts and all my time to achieve my goal to work as a film composer some day.
I came to study in USC to pursue this dream and I'm very happy and honored to be accepted in such an amazing program. It's a real privilege to be learning and living among some of the most talented people I've ever met. The opportunity of being in contact with the SCA students makes everything perfect giving us the opportunity to collaborate with amazing projects and learn from these great experiences.
You are welcome to check my music on this page and if you like it I'll be more than happy to collaborate in your project. Looking forward to working with you.
Thanks for stoping by!
See you soon,
Mateus