Jaimie Pangan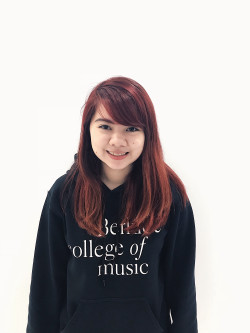 Jaimie is a violinist and an emerging music composer for film raised in the Philippines and is now based in Los Angeles, California. Aside from being passionate with music, she also has interest in Philosophy, Psychology, Art, and learning other foreign languages.
Prior to starting her studies in USC's prestigious Master in Music Screen Scoring program, she worked in the IT industry back in the Philippines while working on her music and doing freelance work. She was a freelance music composer for short films from different clients such as film makers in Canada and the US. Aside from short films, she is also part of music libraries and music publishing companies, namely: Velvet Green Music (Los Angeles), Finetune Music (Los Angeles), Big Sync (Singapore), and PASR (Austria).
Despite having an undergraduate degree in Information Technology, her passion for music and highly motivated self allowed her to thrive in the film industry. Opportunities started to arise when she was able to attend in New York University's Film Scoring Summer program last 2017 with a scholarship from the SOREL organization in New York and a travel grant from her home country. After NYU, she decided to apply for USC and was able to get in despite this being her first time in music school. Upon arriving in Los Angeles, she had an opportunity to also score for a short film participating at the 48-Hour LA Film Project which had its screening at Regal Cinemas.
Jaimie has great appreciation for the orchestra and loves a variety of genres which encourages her to not only stick to one way of composing music. She continues to experiment and learn from other composers; and her style of composing is a mix of both orchestral and electronic. Her influences range from different composers from various genres such as Lindsey Stirling for electronic, Olafur Arnalds and Max Richter for minimal/ambient music, Nicholas Britell and Alexandre Desplat for film music, and so much more!
Soundcloud / IG: @jaimiepmusic
And film score demos on Youtube posted below: