Federico Torri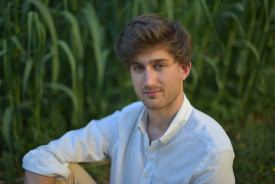 Let's get to the point:
FAVOURITE DIRECTORS: Martin Scorsese, Christopher Nolan, Denis Villeneuve, Alfonso Cuarón, Alfred Hitchcock, Stanley Kubrick, Federico Fellini, Francis Ford Coppola...
FAVOURITE COMPOSERS/MUSICIANS: Radiohead, Jonny Greenwood, Trent Reznor/Atticus Ross, Thomas Newman, James Newton Howard, Dario Marianelli, Jon Hopkins, Maurice Ravel, Gustav Mahler, Bill Evans, The Doors, Max Richter, Bernard Herrmann...
FAVOURITE FILMS/SERIES: Shutter Island, Inception, Interstellar, Arrival, House of Cards, The Theory of Everything, Vertigo, The Shining, Apocalypse Now, The Shawshank Redemption, Children of Men, Taxi Driver, The Insider, The Aviator, Ex Machina, Reservoir Dogs...
Are we on the same page? Let's meet then!
BORING INFO:
I'm a composer from Italy whose style blends late-romantic music conventions with more innovative and contemporary musical idioms, combining soft orchestral textures, avant-garde sound effects and electronic music. I like to compose in a variety of styles ranging from classical to jazz to rock and electronic, because I believe that different musical languages can each help convey different feelings and ideas.
My compositions have been performed by orchestras such as Abu Dhabi's NSO Symphony Orchestra, Sanremo Symphony Orchestra, Arturo Toscanini Philharmonic Orchestra, Pomeriggi Musicali in Milan and Florence Chamber Orchestra, with performances on Italian Television and Radio. I also compose and perform with the electronic-music band
Lefebo
(check that out as well!)
Education:
-
Diploma in Electric Bass
with top grades (Lizard Academy of Music - Florence, Italy)
-
Bachelors in Music Composition
with honors (Scuola di Musica di Fiesole - Florence, Italy)
-
Specialization Course in Music Composition for Film
with Academy Award-winning composer Luis Bacalov (Accademia Chigiana - Siena, Italy)
-
Masters in Screen Scoring at USC
(but you already know..), where I've been awarded the Harry Warren Scholarship (you didn't know about this though!)
If you like my music please feel free to contact me anytime and I'll be happy to work with you!