Christian Kolo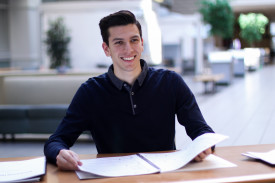 Hello, my name is Christian Kolo.
I am new to L.A., previously living in Michigan, near Detroit. I went to Michigan State (Go Green!) where I studied composition and worked on film music, scoring numerous films, shorts, and video games for students in the film and media school.
As a movie-goer, my favorite element of film is story. Film music, more so than any other form, is relatable and can impact the spectator though its narrative capabilities. It brings characters to life and underlines the drama, dialogue, and acting presented on screen. I admire the classic scores of Korngold and Rózsa in that their music is the love, anger, and hope that the characters express. I admire the epic scores of John Williams' classic cinematic sound, and Hans Zimmer's innovative look at what film music can be. I admire the heartfelt themes of James Horner and the sweeping melodies of Alan Menken. Most of all, I admire film music because it creates a unique vulnerability which allows the audience to genuinely experience the emotions within a film.
It is my mission to create music that anyone can enjoy through its craft, beauty, and magic. I pour my heart into the melodies that dance across the page, in hopes of inspiring in someone the same wonder, grace, and power that I was so lucky to find within music.
It is my hope that we can work together soon and it is my goal to provide any film with the sense of child-like fascination and mystery that left us helplessly in love with the characters, music, and story of film!
Talk to you soon,
Christian
P.S.
Favorite Movie: Avatar
Favorite Composer: James Horner
Favorite 'Current' Artist: MGMT
Favorite Food: Cheeseburgers!
Favorite Video Game: Last of Us
Social Media Links:
Website
YouTube
Facebook
Soundcloud
Instagram