Angela Little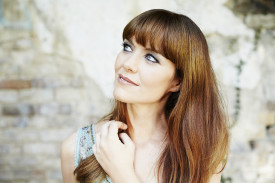 Hi! I'm Angela, and I'm a composer and vocalist from Sydney, Australia.
My first major film credit was Baz Luhrmann's "Australia", for which I composed additional music, and co-wrote and performed the film's love song, which was nominated for various national and international awards.
Since then, I've explored my interest in all kinds of music as both a composer and singer, including producing my own EP's and albums in a range of genres, most recently focusing on epic world music fusing Indian, Middle Eastern and Celtic influences with cinematic scoring techniques.
I've also collaborated with Oscar-nominated composer Marco Beltrami as a vocal soloist on 2016 blockbuster "Gods of Egypt", and in the last couple of years have been composing scores for Australian feature films including documentary "Zach's Ceremony", which was nominated for an AACTA Award (kind of like the Aussie Oscars!); indie feature "Chocolate Oyster", which recently premiered at the 2018 Sydney Film Festival; and the upcoming "Back of the Net" featuring Disney's Sofia Wylie (from Andi Mack) in the lead role.
I particularly love fairytale, mythic, and ancient and fantastical tales, and the way they allow me to play with extremes of darkness and light in my music. I'm also a huge fan of historical epics and period films and in my spare time, I've always loved exploring literature, art and history. I also love animation, and will admit to having always had an obsession with both Disney and classic Hollywood musicals!
Ultimately, I love using my music to tell all kinds of stories, and I especially love working with live musicians to bring a human element to whatever I'm working on. I have always tried to create film music which delves deep into the narrative and the characters and explores the layers within. I'm fascinated both by individual stories and the universality of human experience, and I guess that's why I love film music so much - it gives me the chance to transcend my own experiences to bring depth, emotion and empathy to the stories of others.
I was really excited to be awarded the Sandra and Alan Silvestri screen scoring scholarship to attend USC this year, and I'm looking forward to collaborating to tell some great stories during my time here.