Alec Sievern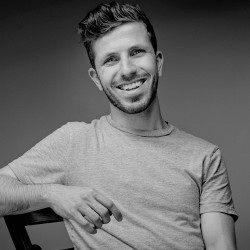 Favorite Flims: Call Me By Your Name, Finding Nemo, Before Sunrise, Harry Potter

Favorite Composers: Thomas Newman, Debussy, Alexander Desplat, Johann Johannsson

Favorite Video Games: Journey, Ori and the Blind Forest, Zelda: Breath of the Wild, Any Harry Potter game


As a concert pianist turned film composer, I was drawn to the idea of creating musical soundscapes that best complement the ideas and emotions in film. I had built a large resume of piano performances across the country, including a solo appearance at Carnegie Hall, where I performed the stories and ideas of many of the world's greatest artists. These interpretations triggered a desire to develop my own ideas.
At the University of Notre Dame, I began composing for student films, where my love for storytelling furthered. I slowly began to experiment in the periphery by blending classical influence into modern musical techniques, creating a musical palate that attempted to discover previously unexplored ideas.
Since graduating in 2017, I have worked in the professional scoring world on short films and video games. I was selected to participate in the NYU Film Scoring workshop, where I had the privilege of recording my music with live orchestral performers, and in 2018, I was awarded the ASCAP Betty Rose Scholarship, given to an "outstanding, promising composer participating in The ASCAP Foundation Composer-in-Residence Program at the University of Southern California".
Movies like Moonlight and Call Me By Your Name best demonstrate my love for film - they present unique stories that are relatable to each of us individually. My goal is to help achieve this level of impact in my collaborations with other passionate artists.